More than 2 million of us were planning an international jaunt in the next 12 months, but overseas travel is grounded for the foreseeable future.
The insight comes from the latest Roy Morgan Holiday Travel Intention Leading Indicator Report, which captures the holiday intentions of Australian consumers surveyed in March 2020.
The study reveals that Australians intended to book millions of nights on stays overseas, with these travellers now potentially convertible into the Australian domestic tourism market.
With overseas travel grounded until early 2022 and likely beyond, Roy Morgan says this represents a huge opportunity for local travel and tourism operators to woo a highly engaged group of Australian travellers.
"Our findings show that as of March, almost 2.2 million Australians – 10.5 percent of the adult population – were intending to holiday overseas in the following 12 months," Roy Morgan CEO Michele Levine said.
"That's a lot of people, but it pales next to the 10.5 million – just over 50 percent of the population – who were planning a domestic holiday."
Research points to a trend towards longer domestic holidays
Roy Morgan's research also highlights the difference in length of domestic and overseas holidays planned pre-pandemic.
According to Roy Morgan, domestic holidaymakers intend to spend less than four nights away, on average, whereas those planning overseas trips were intending to be away for almost 20 nights – more than five times as long.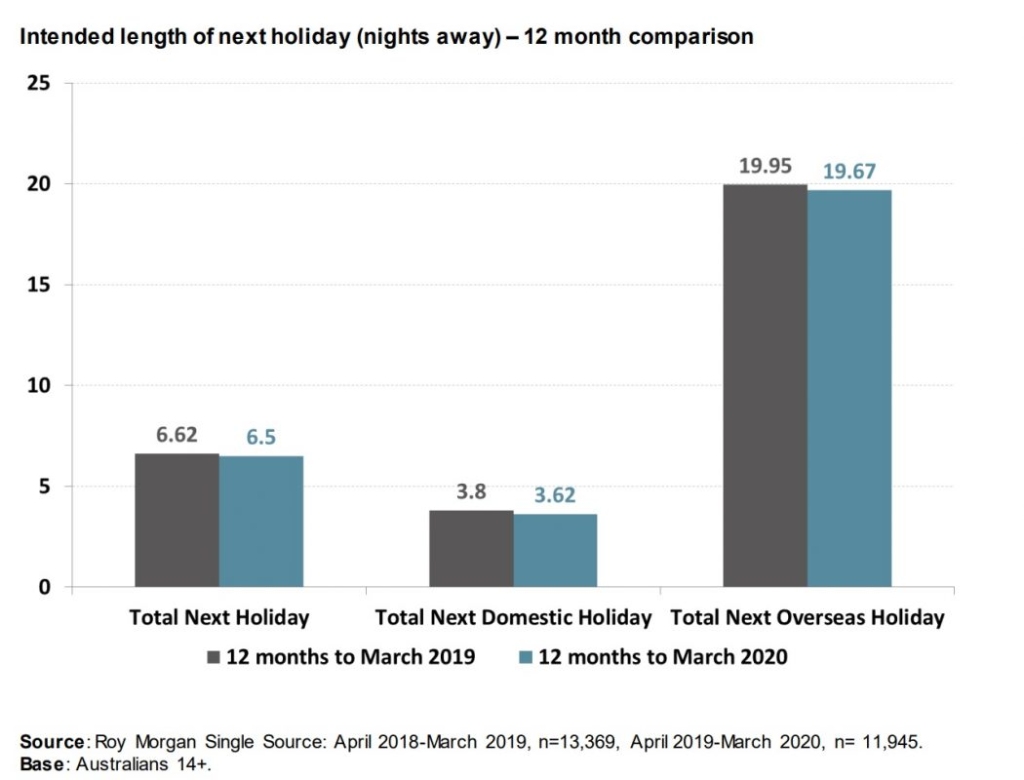 "For obvious reasons, overseas holidays from Australia tend to be significantly longer than trips within the country," Roy Morgan CEO Michele Levine said.
However, with international travel thwarted, it's likely that many 'grounded' Australian consumers will be tempted to increase the length of their next domestic trip.
Economic impact of COVID-19 likely to erode travel spend
While Australians remain highly motivated to travel, the ongoing economic impact of COVID-19 is likely to prove detrimental to consumer spending on travel and tourism.
According to Levine "COVID-19 hasn't only closed our borders to non-essential travel; it has also brought widespread economic hardship and many people have been forced to change their holiday plans as a result."
"But there is still a major opportunity here for Australian travel and tourism operators, who have been hit particularly hard by pandemic-related restrictions."
Important: Whilst all care is taken to ensure the data presented here is accurate, content published on this page is subject to change at any time without notice and may be inaccurate at the time you view it. The Champagne Mile will not be held accountable for informational and technical inaccuracies or errors. Site users are encouraged to cross-reference the information presented on this site with official Australian and state/territory government source websites.
While you're here: Subscribe to our newsletter for the latest tips, deals and news. It only takes a few seconds and we respect your privacy: