A review of Cathay Pacific Business Class from Adelaide to Hong Kong, flying the A330-300 – an award winning business class product available from many Australian cities.

| | |
| --- | --- |
| Flight number: | CX174 |
| Airline: | Cathay Pacific |
| Route: | Adelaide to Hong Kong |
| Flight duration: | 8 hours, 50 minutes |
| Cabin: | Business class |
| Redemption points: | 45,000 Asia Miles one way, or 80,000 return |
Cathay Pacific is one of my favourite airlines for business flights.  They offer an incredibly comfortable fully flat bed in their award winning business class and their fleet services a network of major Australian cities including Sydney, Melbourne, Brisbane, Perth and Adelaide. Recently, I had the opportunity to fly from Adelaide to Hong Kong before hopping on Emirates first class to Europe.  You can read more about how routing award flights via Hong Kong could save you hundreds of dollars in this post.
Booking the flight
Cathay Pacific award space is relatively easy to come by, and flights are very reasonably priced when redeemed via Cathay's frequent flyer scheme, Asia Miles. I booked the one way award flight for 45,000 Asia Miles which I'd transferred across from my  American Express Explorer Card.  Right now, AMEX is offering a sign on bonus of 50,000 bonus points (32,000 Asia Miles) for new card members. who apply, are approved and spend $1,500 in the first three months – that's almost enough points to book a one way flight on this route.  The card also comes with a $400 travel credit, lounge passes and more. You can find out more or apply via PC, tablet or smartphone here.
Check in and lounge access
As an international business class passenger, I had use of the domestic Qantas Club, the only OneWorld lounge at Adelaide Airport.  My flight was due to depart at 6.25 am, and I arrived just before 5 am (the time the domestic Qantas Club opens).
Check in was completed quickly, and within five minutes, I had my boarding pass in hand and was on my way to the Qantas Club.  The Adelaide Qantas Club is fairly unremarkable, but it's a pleasant enough space to perch in for awhile.  I ordered a latte and thumbed through the papers whilst I waited for the boarding call.
I set off to the gate as soon as the flight was called, as I still needed to clear international security prior to boarding.  While there are no fast track passes provided in Adelaide, the security clearance didn't take long and I was soon at the gate. Boarding commenced shortly thereafter.
On board Cathay A330 Business Class
Cathay Pacific's A330 business class cabin features 39 seats in a reverse herringbone configuration.  The 1-2-1 layout provides aisle access for all passengers, which avoids disturbances by other passengers getting in and out of their seats.
Window seats are relatively private and popular with solo travellers. Those travelling in pairs might choose to reserve the two middle seats.  These seats feature a retractable divider, allowing for interaction during the flight.
Upon boarding, I was promptly shown to my seat, 15A.  This seat is one of my favourites, as it's located in the middle of the cabin, away from both the galley and the toilets.  It features a large bank of windows which helps the space to feel light and airy.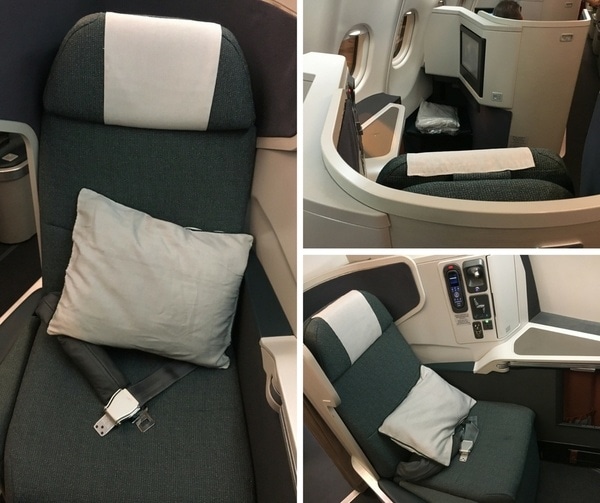 The roomy seat features lots of handy areas for storage.  These include side compartments and a footwell.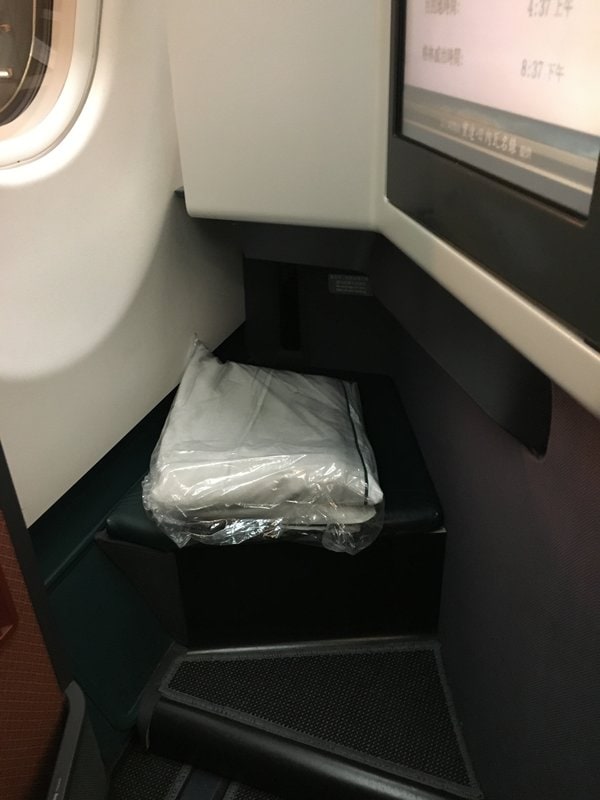 A bank of controls is located to the left of the seat, featuring the entertainment system handset, airflow and seat recline controls and input jacks.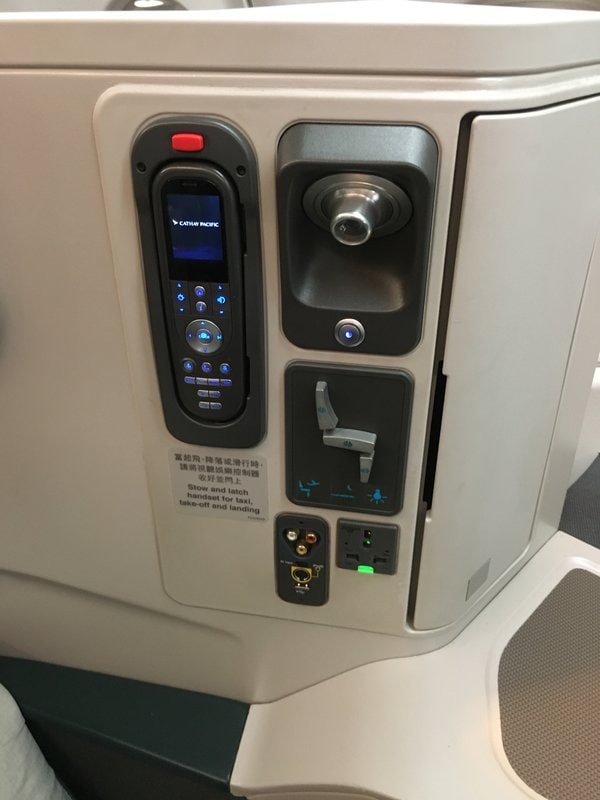 A handy little storage cupboard to the side of the control bank contains headphones and a small vanity mirror.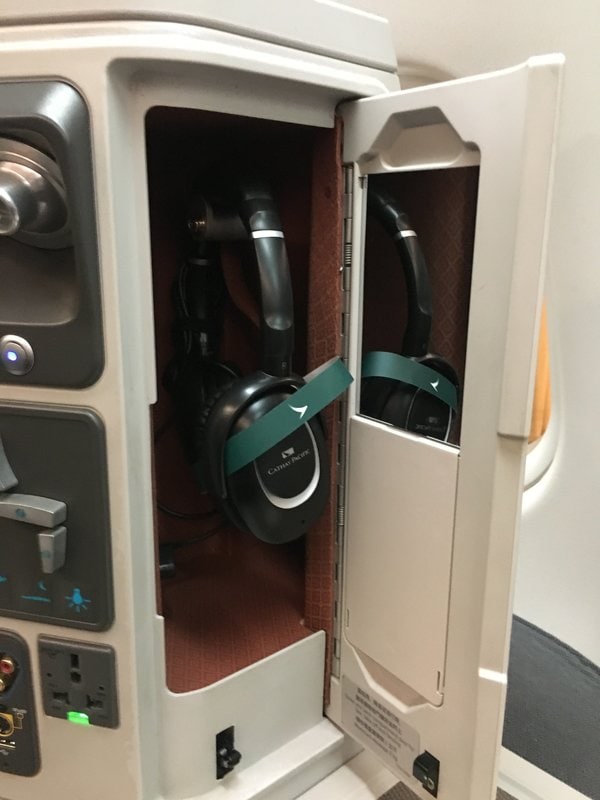 The individual entertainment screen pops out and needs to be stowed for take-off and landing.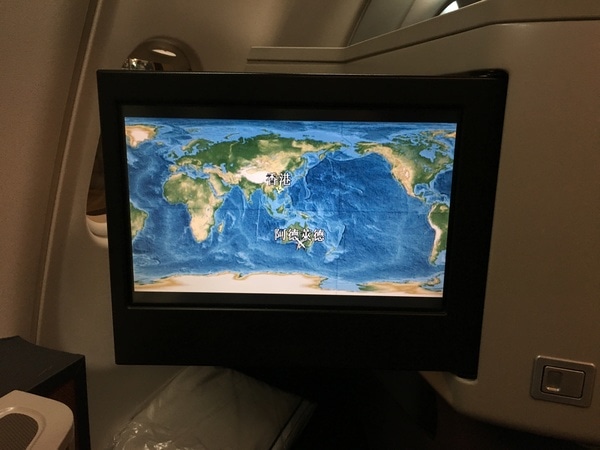 Shortly before takeoff, the crew came around to offer a drink (water or orange juice only) and to hand out amenity kits.  Cathay Business amenity kits are of a good quality and feature products you'll actually want to use in flight.  The kits are manufactured by seventy eight percent and are stocked by natural skincare line, Jurlique, which originates from the Adelaide Hills.
My amenity kit contained a lip care balm, mini revitalising mist and mini herbal recovery serum. In addition, a set of earplugs, eye mask and toothbrush were provided.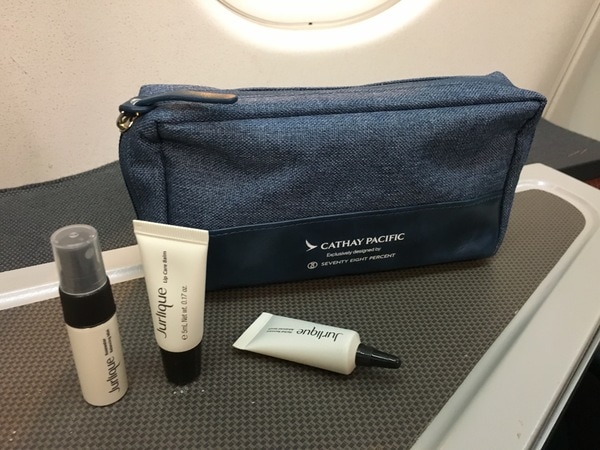 Following takeoff, the crew came around to distribute menus and to take drink and breakfast orders.  I was celebrating the start of my trip, so decided a Bloody Mary was in order.  It was delivered promptly, but without any garnishes.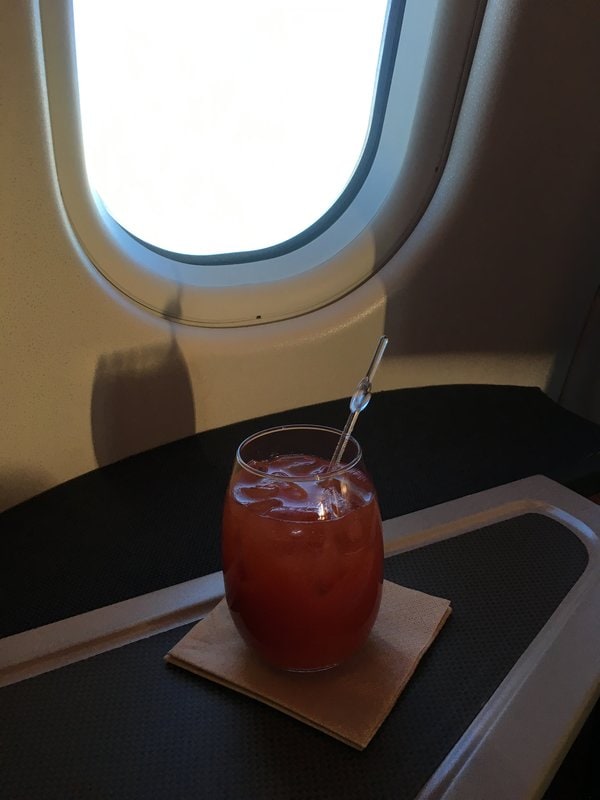 The breakfast menu featured a bircher muesli and fresh fruit salad, followed by the choice of a hot course.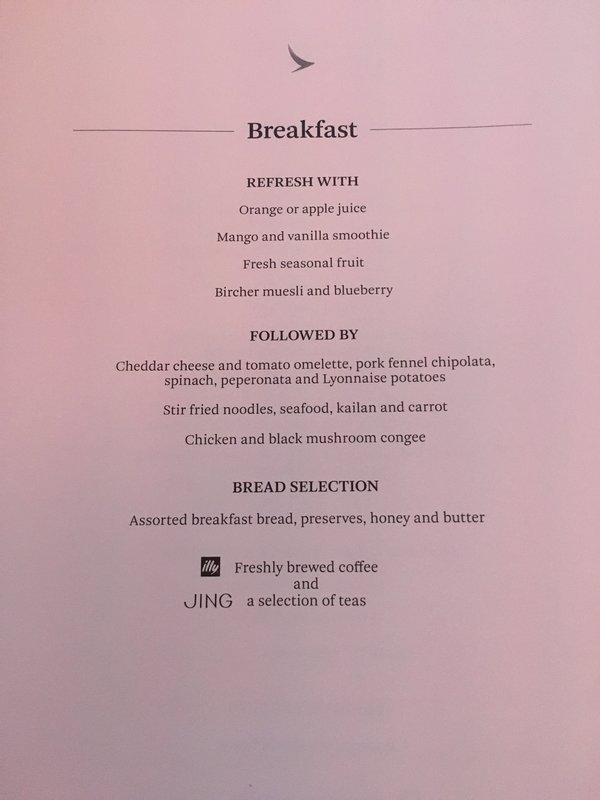 The bircher muesli and fruit salad were served first.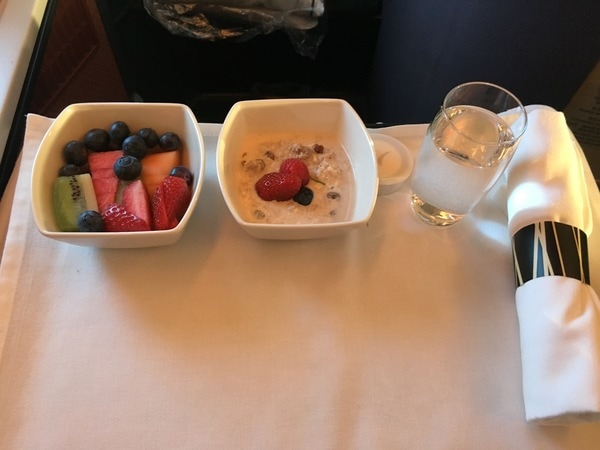 For the main course, I chose the cheddar cheese and tomato omelette.  Sadly my choice wasn't particularly tasty or well presented.  Unlike other business products (including Qantas and Virgin domestic), Cathay doesn't usually plate up food –  it's served direct from the tray.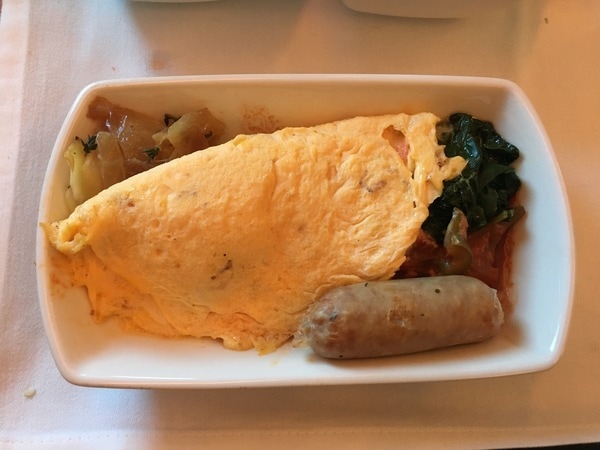 Around five hours into the flight, the crew came around to offer lunch. On offer was a seafood starter and salad for all, followed by a choice of main course, cheese or ice cream.
I decided to start with a glass of Deutz Champagne, which was served with a hot towel.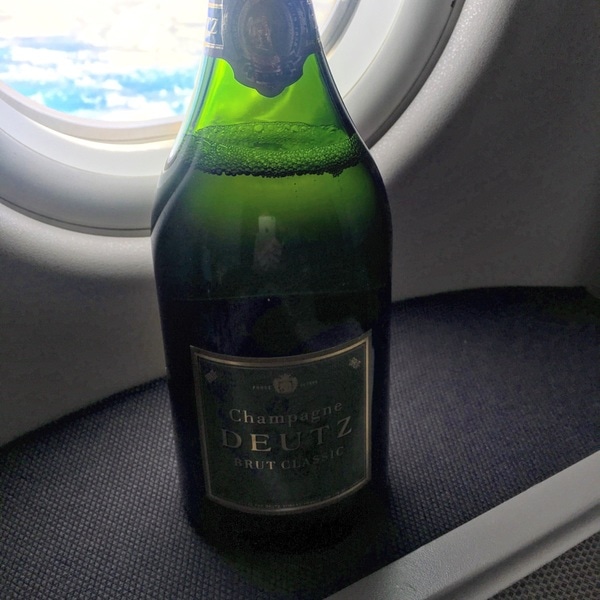 The champagne paired perfectly with the seared tuna starter, which was tasty and well presented.  For main course, I chose the beef short rib, and for dessert, I opted for the cheese plate.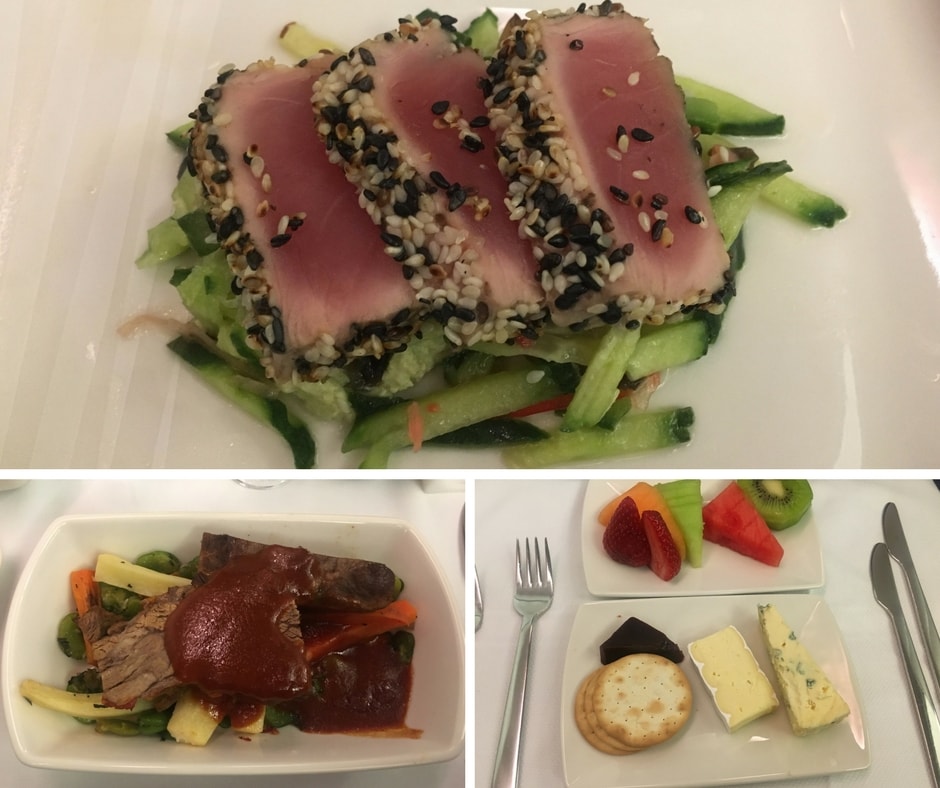 Cathay plates up their cheese direct from a trolley, which is a nice touch.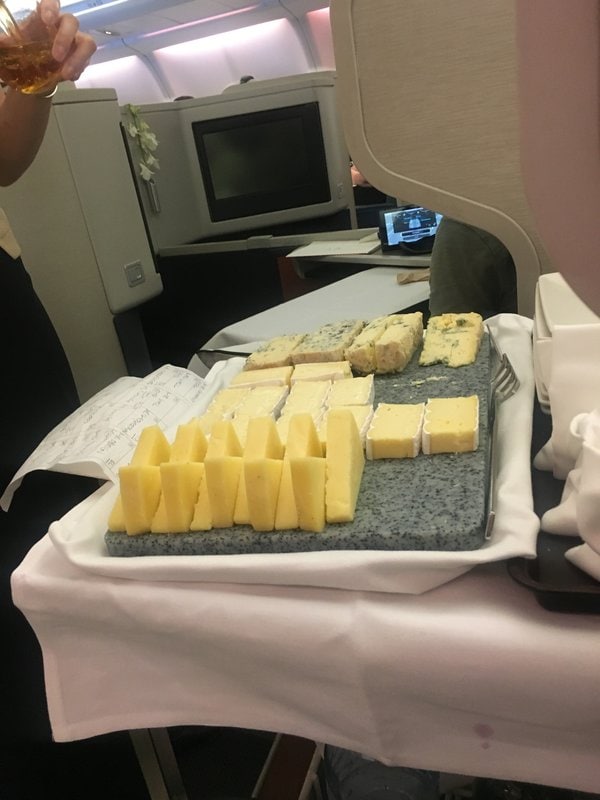 The cheese course was followed by the offer of a praline (Cathay's pralines are manufactured by the Peninsula Hotel), and a soothing Jing jasmine tea.
Before long, we were just 45 minutes out of Hong Kong, and the captain announced our descent.   It was a clear day, and I enjoyed the dramatic scenery of Hong Kong as we circled the city before landing just after 1 pm.
Cathay Pacific business class bottom line
All in all, I enjoyed my Cathay Pacific business flight, and wouldn't hesitate to use 45,000 Asia Miles or 65,000 Qantas points to book it again.
Cathay Pacific offers a consistent and reliable business class product, and we're lucky that it's very accessible from Australia.The seat and entertainment options are fantastic, and the food, while not reaching gastronomic heights, is of a reasonable standard.