Binance is a popular cryptocurrency exchange and the world's largest by trading volume.
In this Binance Australia review, we'll outline how Binance works, provide an overview of the signup process, highlight key features and fees, and discuss Binance stacks up against other cryptocurrency exchange platforms in Australia.
Disclaimer: We may receive a commission when you sign up using a link in this article. Cryptocurrency trading has potential risks involved and it may not be suitable for all people. This article constitutes general information only. Before deciding to invest, you should seek independent financial or professional advice to ensure that Binance Australia is right for you.
Binance overview
The Binance global cryptocurrency exchange provides a platform for users to buy, sell and trade cryptocurrencies. Outside Australia, Binance is available in over 180 countries and allows users to access a wide range of digital currencies.
Sign up to Binance and earn 10% commission rebate on every trade across Binance Spot, Futures, and Pool. (T&Cs apply)
The platform allows users to trade between cryptocurrencies, altcoins, and fiat currencies like USD and EUR. Binance has been in operation since July 2017 and was founded by Changpeng Zhao after he left his position at Blockchain to start his own company.
Binance is the largest exchange in the world. In September 2021, Binance's spot cryptocurrency trading volumes totalled $789 billion USD.
In Australia, Binance registered AU$600 million in daily trading volume in mid-2021. Binance Australia's recent local trading volume records have cemented its place as the number one digital asset exchange in Australia.
Who is Binance for?
Binance Australia aims to provide an accessible interface for crypto investors that are looking for a centralized spot with high liquidity where they can buy their first coins without having to worry about securing them on exchanges with low volumes of trades.
Staking of crypto holdings allows Users to grow their crypto holding while investing. Binance also provides users with the ability to trade with Peer-to-peer (P2P), participate in margin trading, and take advantage of advanced trading options such as futures trading.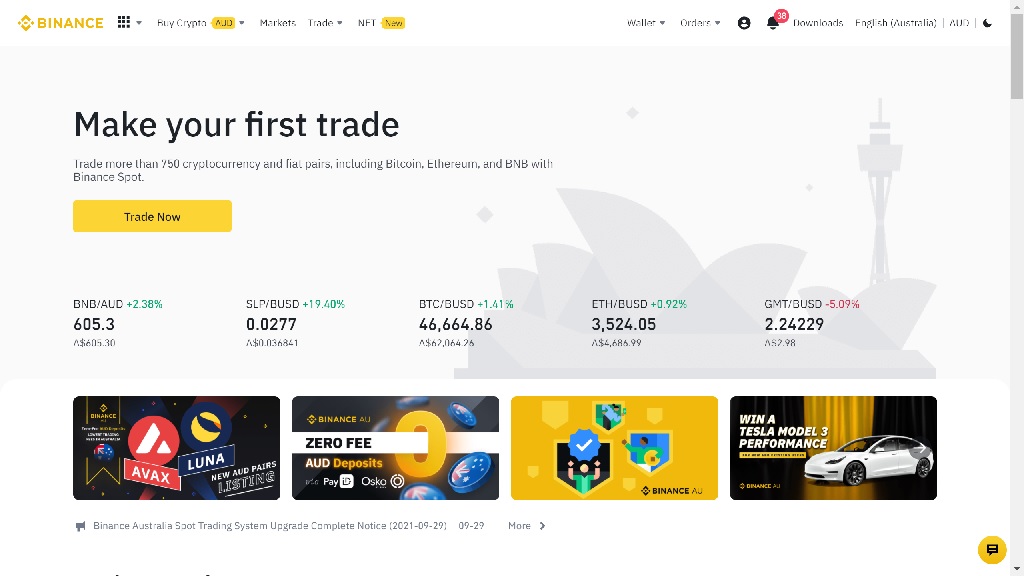 Key Binance features
Before you decide to use Binance Australia, you'll want to know what sets it apart from other platforms that are accessible in Australia. In this section of our review, we'll cover the main features to know about:
Low trading fees: Binance features a low, competitive transaction fee of 0.1% for trades. Trades completed using Binance Coin attract an additional discount. AUD deposits and withdrawals are free.
Multiple currency options: Binance offers multi-language support and multiple currency options (BTC, ETH, BNB).
High-level security: The Binance platform offers 2FA two-factor authentication. In addition, all funds are stored in offline wallets. This is one of the safest methods for holding bitcoin because funds are inaccessible through the Internet.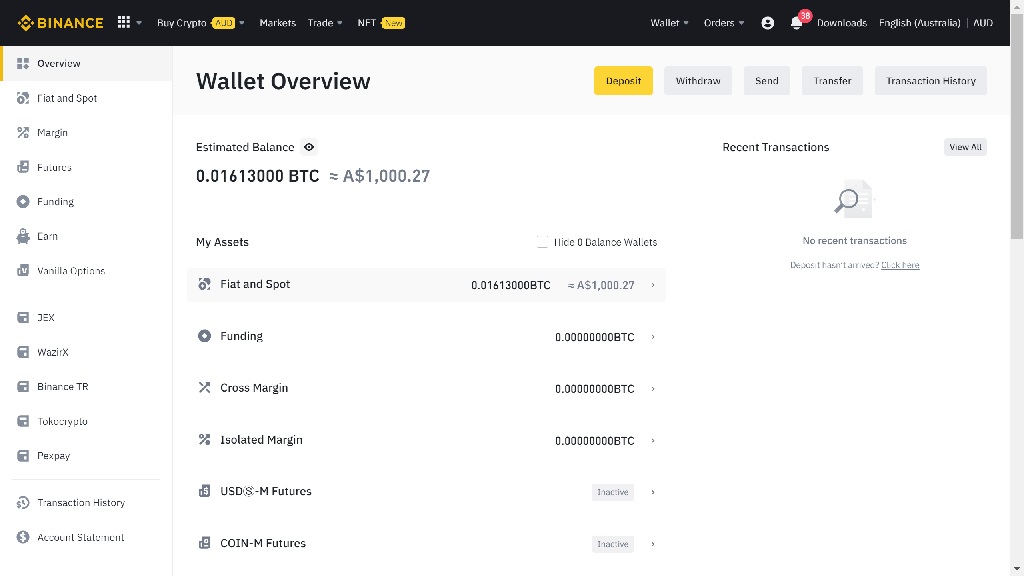 Offers many cryptocurrencies: An extensive range of cryptos are offered, including Bitcoin, Ethereum, Litecoin, and Binance Coin.
High daily withdrawal limit: The Binance daily withdrawal limit is set at 100 BTC for users trading in altcoins.
User incentivization: Binance offers a referral program where people who are interested in signing up can receive a commission via their link. This helps users maximize rewards while making Binance more known and accessible to potential new customers. Users also get free coins for referring others to the platform.
Extensive customer support: Binance offers 24-hour support, seven days a week. The Binance website also houses an extensive FAQ section that helps people to get answers to basic questions without needing to contact support.
Binance safety + security
Safety features are a key focus for any trusted crypto exchange, and Binance is no exception.
Binance Australia is a relatively young cryptocurrency exchange service, yet it has gained growing popularity in Australia and favourable reviews.
InvestByBit Pty Ltd (ABN 98 621 652 579), based in Australia, owns Binance. It is regulated by the Australian Transaction Reports and Analysis Centre (AUSTRAC) like any other crypto exchange operating in Australia. Like CoinSpot, Binance also holds ISO 27001 certification.
Security at Binance has been a key concern for the platform due to hacks, but they have actively addressed these concerns. Binance claims to store 90% of all user digital assets offline in cold storage and it offers two-factor authentication (TFA) as standard across its users' accounts.
Additionally, Binance extensively uses manual administrator verification, which reduces the risk of fraud or theft considerably. Users also benefit from having full control over their private keys with Binance allowing them to hold funds outside of its servers entirely if desired via decentralized wallets like Trust Wallet and Atomic Wallet.
Sign up to Binance and earn 10% commission rebate on every trade across Binance Spot, Futures, and Pool. (T&Cs apply)
Secure Asset Fund for Users (SAFU) serves as the pooling vault to which Binance distributes 10% of all collected fees. When the platform was hacked in May 2019, Binance was able to reimburse the lost funds to its users by drawing out funds from SAFU.
Binance has set up stringent measures such as background checks and proof of address, and other personal information for those looking to sign up onto the platform. A know your customer (KYC) policy applies.
Users can enable two-factor (2FA) authentication (hypertext transfer protocol secure or 'HTTPS') on their accounts for additional protection. This makes it harder for hackers to break into individual accounts through phishing attempts where users enter details like passwords without knowing that this information is being sent directly to criminals who then use them against the user. In addition, SMS verification codes are required for every withdrawal request.
Binance continues to invest in platform upgrades to improve user experience and provide a safer trading environment. In addition, their security team constantly monitors for any unusual activity on user accounts which means they can quickly shut down access if something does manage to slip through or an account is hacked.
How to join Binance Australia: Step by step
Joining Binance Australia is straightforward. It won't take you long to get set up and ready to trade. Here's how you can sign up for your own Binance Account:
Step 1: Go onto the Binance website at www.binance.com and click to register for your account.
Step 2: Enter your email address, password, two-factor authentication code (if you choose this option) as well as any referral link if you have already signed up with someone else's referral code before signing up on your own. NOTE: If it is not stated that anyone can use a particular users' referral link then only the person who originally used their link will receive commissions via referrals.
You are also able to create multiple accounts which means people could potentially earn more money through the platform by referring others into registering under them and earning 20% of all trades made using those links. However, there have been some reports of people facing issues when trying to withdraw their funds out of Binance if they've attempted this more than two times.
Step 3: You will be required to create a unique password and confirm your email address before finally inputting the CAPTCHA code presented on the screen for registration to complete successfully.
Step 4: After all that is done, go back into your email account where you should have received an 'activation link' which needs to be clicked for final verification before proceeding onto using the platform.
Step 5: You are now able to start trading on Binance! From here, users can deposit BTC or ETH (or any other cryptocurrency accepted by them) so it can then be traded against another cryptocurrency.
Binance Australia fees and charges
Binance Australia doesn't charge anything for AUD deposits, whether through PayID or OSKO. They charge a trading fee of 0.1%. This trading fee can be discounted when BNB (Binance coin) is used for the fees.
New Platform Payments (PayID/Osko) into your unique Binance Australia PayID are accepted by all NPP-enabled Australian banks and credit unions.
Just like their approach to deposits, Binance Australia does not charge withdrawal fees on AUD withdrawals into Australian bank accounts.
So how do Binance trading fees compare with other leading crypto exchanges? Binance fees are widely considered to be some of the lowest in the industry, placing it in direct competition with locally-owned platform, CoinSpot. Binance fees are also significantly lower than Coinbase.
Before deciding to use Binance, you should check the Binance website for the most up-to-date trading fee schedule.
How to trade on Binance Australia
Once registered on the platform, users can access the dashboard. This provides an overview of all cryptocurrencies they hold in their wallet as well as those that are available to trade at any given time (note: new coins may be added periodically).
Users can also review current market trends for each coin and view price charts over specific periods (day, week, or month). From here, they can then choose which cryptocurrency pairs they would like to trade.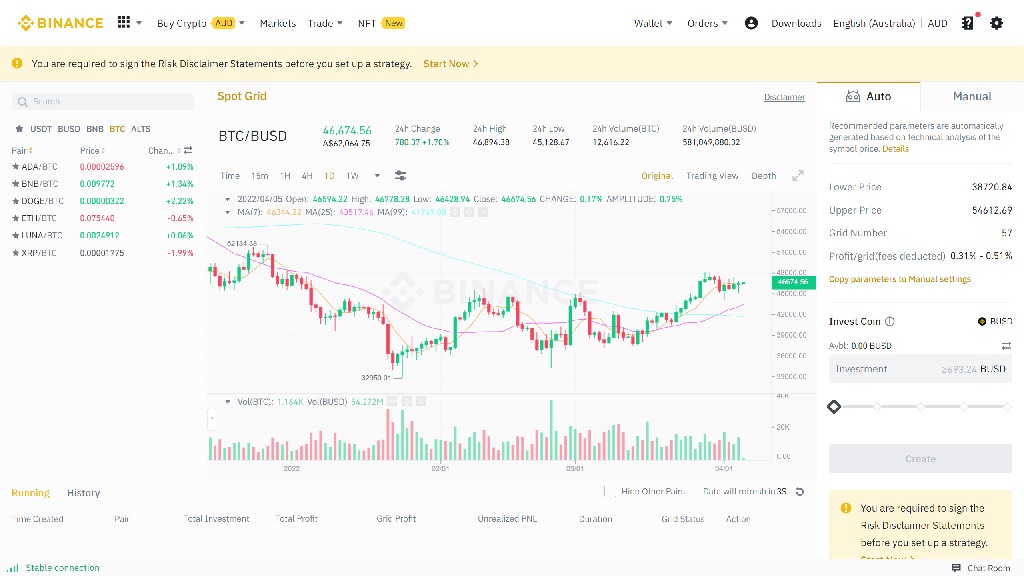 Tradeable currencies
Binance accepts varieties of currencies to buy crypto, ranging from fiat currencies like USD, AUD, EUR, GBP, CNY, INR, RUB, and many others, to stable coins like Binance USD(BUSD), Coinbase USD coin (USDC), and Tether (USDT).
The tradable crypto assets on Binance include ADA, BNB, BTC, DOGE, DOT, ETH, LTC, UNI, USDT, XRP, and many more.
Funding your Binance Australia account
To deposit funds into your Binance account, you will need to generate an address which can be found on the "Funds" tab, and then select "Deposit". You can then choose the currency you would like to fund your account with.
Once you have deposited your funds, they will need to be verified by the Binance team before you can begin trading. This process usually takes around 24 hours.
Executing trades on Binance Australia
To buy a particular cryptocurrency, users need to locate the corresponding trading pair and then enter the desired quantity of that coin into the "buy" box. The platform will automatically provide you with a suggested price based on market conditions at the time of purchase.
Once you have confirmed all details, hit the "Buy" button and your order will be placed.
The withdrawal process is simple; simply click "Withdraw" beside any available coin to visit the respective wallet page where you can generate an address before submitting this via email or transferring it directly from another digital wallet in which you hold the keys to access the said coins.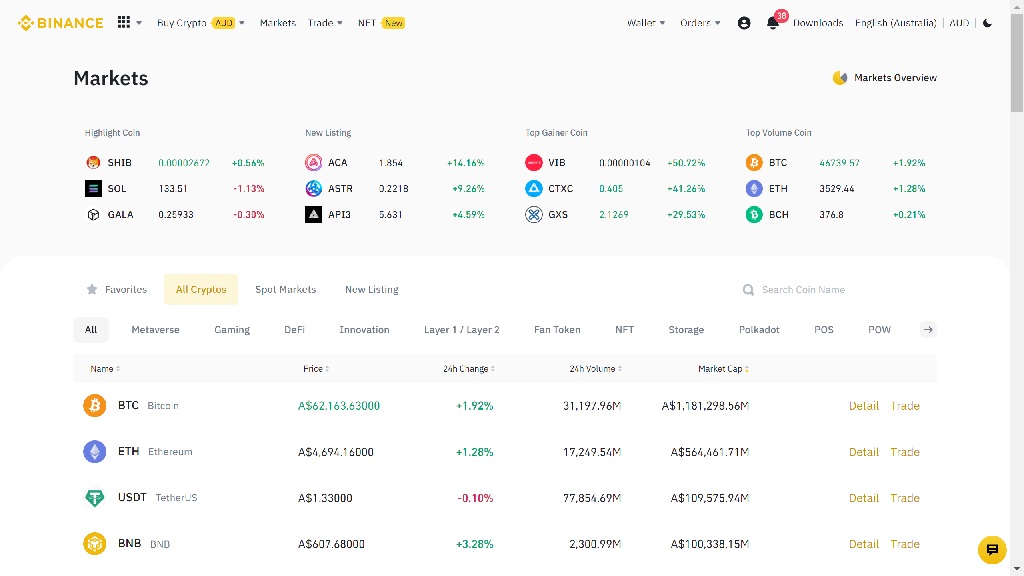 Binance Australia trading limits
When opening an account with Binance, certain limits apply to ensure the safety of user funds. New accounts are limited to a maximum withdrawal amount of 0.06 bitcoins per day, while those with verified accounts can withdraw up to 100 bitcoins per day.
Binance app
The Binance mobile app is one of the most user-friendly cryptocurrency exchange apps in operation. The app can be downloaded onto your mobile phone, and it's very simple to use. After you have registered for an account on the Binance website, you will need to download the app and create a PIN code. Once you have logged into the Binance app, you will be able to see all the currencies that are available for trading. You can then select which currency you would like to buy or sell and enter the amount that you want to trade.
The Binance app has all the features that are available on the Binance website, with the added convenience of being able to access the platform on the go. You can deposit money into your account through a bank transfer or by using cryptocurrencies such as Bitcoin and Ethereum.
If you choose to pay with cryptocurrency, it will be converted to Binance coin at an automatically calculated rate when you make your payment. Then you simply need to click "Exchange" from within the app interface for trading transactions to begin completing instantaneously.
Sign up to Binance and earn 10% commission rebate on every trade across Binance Spot, Futures, and Pool. (T&Cs apply)
Binance Australia customer support
Like CoinSpot, Binance offers 24/hour customer support. This can be accessed through their website, or you can reach out to them on social media platforms such as Twitter and Reddit. If you need help with anything related to your account or Binance in general, there is somebody available to assist you.
It's worth knowing that customers have complained about long response times for some support tickets. There's also no live chat support, as offered by CoinSpot.
Binance alternatives for Australians
Based on ease of use, safety, trading fees, charges, tradable currencies, and other key factors, here is a list of alternative cryptocurrency exchanges to Binance in Australia:
Binance Australia vs CoinSpot & Coinbase
In this section of our Binance review, we'll look at how this platform stacks up against popular crypto exchanges CoinSpot and Coinbase. Limited features are covered here.
DISCLAIMER: This section is general information only; it is not to endorse a particular crypto exchange.
User Interface
To start this comparison, we need to look at the first thing you will notice when you use a crypto exchange platform; the user interface. Although the interface of Binance is user-friendly, many people consider CoinSpot and Coinbase to be more beginner-friendly than Binance.
Mobile app
Binance Australia, CoinSpot, and Coinbase all offer mobile apps in both iOS and Android versions (though CoinSpot was late to the party in this regard). The apps provide customers on these trading platforms with a handy trading tool they can use anytime, anywhere.
Sign up verification
As you'd expect, all three exchanges use robust, automated verification features as required by AUSTRAC and KYC regulations.
New users on Binance Australia and CoinSpot must provide their full name, address, phone number, proof of ID, photo of a utility bill, and most importantly, photo of themselves holding a signed statement. However, Coinbase does not require users to upload a photo of them holding a signed statement. A selfie photo might be required if you want to recover your account and you have lost your two-step verification device.
Fiat currencies
In terms of the fiat currencies available on each platform, CoinSpot allows only trades with Australian Dollar (AUD), while Coinbase and Binance Australia have a wide range of fiat currencies like AUD, USD, EUR, GBP, CAD, MXN, HRK, CZK and many more that you can use to buy bitcoin and some other cryptocurrencies.
Fees and flexibility
Binance Australia offers zero fees on AUD deposits using PayID/Osko. CoinSpot has numerous deposit methods like cash, PayID, BPAY, POLi, etc. CoinSpot also charges zero fees on AUD deposits using POLi, PayID, or Direct Deposit (via OSKO). It is only when you use BPAY (0.9%) and cash (2.5%) as payment methods that you incur charges. Coinbase accepts only debit cards (and no credit cards) as the payment method and there is a 3.99% charge on each transaction.
Both Binance and CoinSpot charge zero fees for AUD withdrawals into Australian bank accounts. Since you cannot sell cryptocurrency on Coinbase Australia, it does not allow fiat withdrawals.
On trading fees, CoinSpot charges 1.0% when you are buying or selling. Coinbase charges a high fee of 0.5%+3.99% (debit card fee). Binance charges a low fee of 0.1% which can be further reduced to 0.075% if you are using BNB to pay. This means Binance Australia has the lowest fees among them.
NFT trading
2021 has been saturated with news about Non-fungible tokens (NFTs), and Binance Australia recently launched their new NFT marketplace. Coinbase also announced plans to launch Coinbase NFT soon. CoinSpot announced the CoinSpot NFT Bundle which is made up of 10 Cryptocurrencies listed on CoinSpot that are developing solutions to support the adoption of Non-Fungible Tokens (NFTs).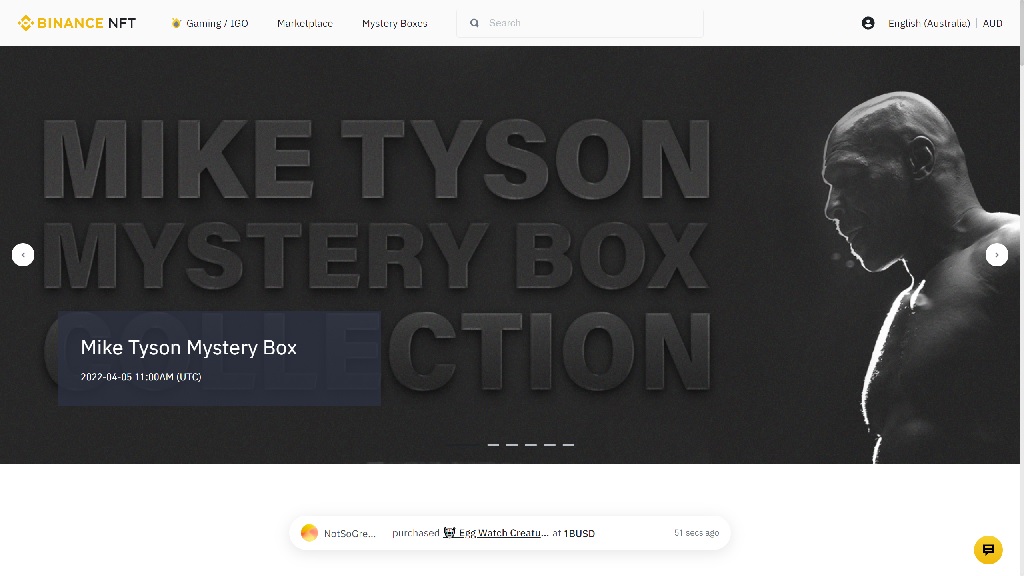 For more information about these popular cryptocurrency exchanges, check out our in-depth reviews of Coinbase and CoinSpot.
Binance reviews from Australian users
Now that we've outlined how Binance works and how it stacks up against competitors, let's look at how Australian users find this platform.
Many Australians have good things to say about Binance. Users commonly provide feedback on how fast withdrawals into their bank accounts are. The low fees are commended by users but there have been complaints about hidden charges when a credit card is used. One user said he was charged 6.6% when he made a purchase with a credit card. He calls for more transparency in this area.
In terms of customer support, one Binance user complained about how they were blocked from contacting their support after lodging a complaint. Another user shared a frustrating experience they had with the customer service, as they were left hanging for hours without replies in between conversations.
Some customers have commented negatively about the interface which they claim is too complex to navigate. The interface is considered to be challenging for beginners. They claim the amount of information is just too much for easy navigation.
Binance Australia Pros and Cons
PROS
Low trading fees of 0.1%, further discount if BNB is used.
Binance exchange is the largest crypto exchange in the world
Staking on over 70 different coins to earn interest
Advanced trading features like spot trading, margin trading, a peer-to-peer marketplace, and futures trading
Over 300 different altcoins can be traded
Fast deposits and withdrawals
CONS
Not user-friendly for less-experienced traders, beginners may find the platform too complex
Customer support can be frustrating
Binance Australia Review: Conclusion
The Binance Australia cryptocurrency exchange could be worth considering for new or experienced crypto investors who plan on trading often.
Boasting very competitive rates, there are no fees imposed during any part of a transaction process whether deposits or withdrawals have been made. This makes Binance an extremely cost-effective option for those trading in cryptocurrencies.
Sign up to Binance and earn 10% commission rebate on every trade across Binance Spot, Futures, and Pool. (T&Cs apply)
The Binance platform is packed with features, including an NFT marketplace, futures trading, and staking.
As an advanced platform, Binance Australia will likely appeal to users looking to undertake advanced trading options like margin trading and futures. However, it's clear that the Binance platform is designed with experienced cryptocurrency traders in mind. Beginners and less experienced traders might find the platform too complex to navigate.
Disclaimer: Cryptocurrency trading has potential risks involved. Trading may not be suitable for all people. This article constitutes general information only. Before deciding to invest, you should seek independent financial or professional advice.
Binance Australia Review Frequently Asked Questions (FAQ)
How do I join Binance Australia?
It's easy to sign up for Binance, and it will only take a few minutes. Click here to go to the Binance website and get started.
Can beginners use Binance?
Yes, Binance Australia can be used by less experienced crypto traders. However, beginners may find the platform complex.
Is Binance safe?
As the world's leading cryptocurrency exchange, it's fair to say that Binance Australia is safe. The platform is regulated by AUSTRAC and claims to comply with all Australian regulations.
While you're here: Subscribe to our newsletter for the latest tips, deals and news. It only takes a few seconds and we respect your privacy: