The AMEX David Jones Credit Card is a handy one to have in your wallet if you do a lot of your shopping online (like me!) Your loyalty deserves to be rewarded.
Receive 20,000 Membership Rewards points or 15,000 Qantas Points when you apply and spend outside of David Jones three times within the first month of becoming a Card Member.
You'll also receive a number of exclusive privileges when you shop at David Jones. With a low annual fee of just $99, this is a premium rewards credit card that won't break the bank.
Eligibility for the AMEX David Jones card
You're eligible for the bonus points if you hold or have held an American Express or bank issued American Express credit card in the preceding 18 months, so long as it's not a David Jones branded product.
An income of $40,000 or more per annum is required to apply for the card.
Apply now via our (mobile friendly) AMEX David Jones partner link
Points Flexibility
There are two paths you can choose:
Opt in for the flexibility of the David Jones Membership Rewards scheme (20,000 bonus points)
Choose to earn directly to Qantas Frequent Flyer (15,000 bonus points)
If you prefer to credit your points to Qantas Frequent Flyer, nominate it as your preferred transfer partner at the time you apply for the card, and your 15,000 Qantas points will be transferred directly to your Qantas Frequent Flyer account once you've spent three times outside David Jones – easy!
Alternatively, choose the David Jones Membership Rewards scheme and redeem your 20,000 points online at David Jones (13,300 points = $100), for gift cards at retailers like WISH, BP and Harvey Norman, or convert your points to a number of leading airline and hotel partners, mainly at a rate of 1 point to 0.5 points.
Access exclusive benefits when you shop at DJs using your AMEX David Jones
You'll get access to exclusive rewards when you shop with your card at David Jones. These include:
Complimentary standard delivery and gift wrapping (for items purchased instore or online at David Jones with the Card). This is regardless of how much you spend.
Invites to exclusive David Jones events not available to the public
Up to 4 Years Interest Free and Christmas Deferred Payment Options – you won't have to make any payments until February the following year on purchases made between 1 November and 24 December instore at David Jones
Turbo-charge your points earn on 'everyday' spend categories
One of the main reasons I hold the AMEX David Jones credit card  is because it offers the best earn rate of any Qantas-linked credit card in Australia on 'everyday' spend categories.
Opt in to Qantas Frequent flyer, and you'll supercharge your points balance by earning 2.25 Qantas Points per dollar when you spend at supermarkets, or on petrol – the highest rate in Australia for these categories.
You'll also pick up a very respectable 0.75 Qantas points for paying your utilities bills. Even better, you can settle your tax bill with the ATO. And like all AMEX consumer credit cards, there's no spending cap – ever!
Seriously rewarding perks with a seriously low annual fee.
With an annual fee of just $99, the AMEX David Jones credit card  offers premium rewards without a steep price tag. Whether you're a serious shopper or a savvy traveller, keep this low cost card for the long term.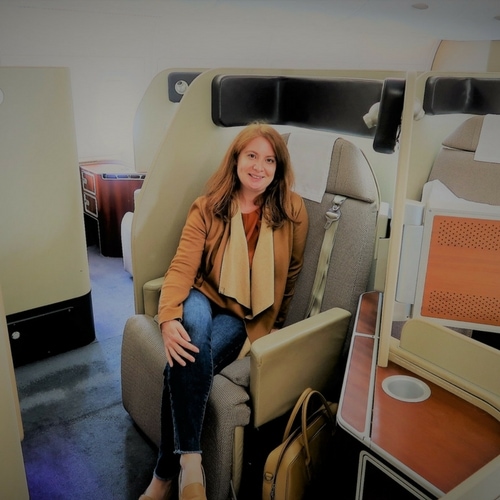 I love to travel the world in comfort and style. In fact, there's really nothing I love more than sitting in a plane at 36,000 feet, a glass of Krug in hand, watching the clouds go by.