The Accor Plus loyalty program unlocks a myriad of perks – including a free hotel night, up to 50% dining discount and an instant fast track to Le Club AccorHotels silver status.
Sign up for Accor Plus membership now
As I've outlined in our comprehensive Accor Plus overview, there are so many valuable benefits you can extract from membership. And, for many travellers, the key offering is the 'Stay Plus' benefit – one free night at a participating hotel, each and every membership year.
So, if you're considering signing up for Accor Plus, you're probably wanting to know whether you can fully offset the cost of your membership, simply by using your free hotel night.
The fact is, when you use your Stay Plus benefit, it's entirely possible to cover the membership fee and come out ahead.
We've compiled a list of luxurious 5-star properties, all of which offer the Accor Stay Plus benefit. At the time of writing, each hotel in our list is offering a complimentary night available with a value of at least $400 AUD, with some properties offering significantly more!
Note: Availability for the Stay Plus complimentary nights set out in our examples below is current as at 11 September 2019 and is subject to change at any time. The earlier you book, the higher chance you will have of finding a complimentary night on the date of your choice.
So, without further ado, let's jump in.
Kyoto Yura Hotel, MGallery (Kyoto, Japan)
Hotels skyrocket to astronomical prices during Japan's peak Sakura season, and room rates in Kyoto, the historical capital of Japan, are is no exception.
Luckily, when planning ahead, savvy Accor Plus loyalty members can lock in the Stay Plus night at the Kyoto Yura Hotel at a steal.
For the night of 30 March 2020, a one-night stay in a base-level Classic room (in the heart of Cherry Blossom season) will set you back a whopping $481. Apply your Stay Plus benefit instead and you'll pay just $35.50 – that's a saving of over $445, simply by using your free night!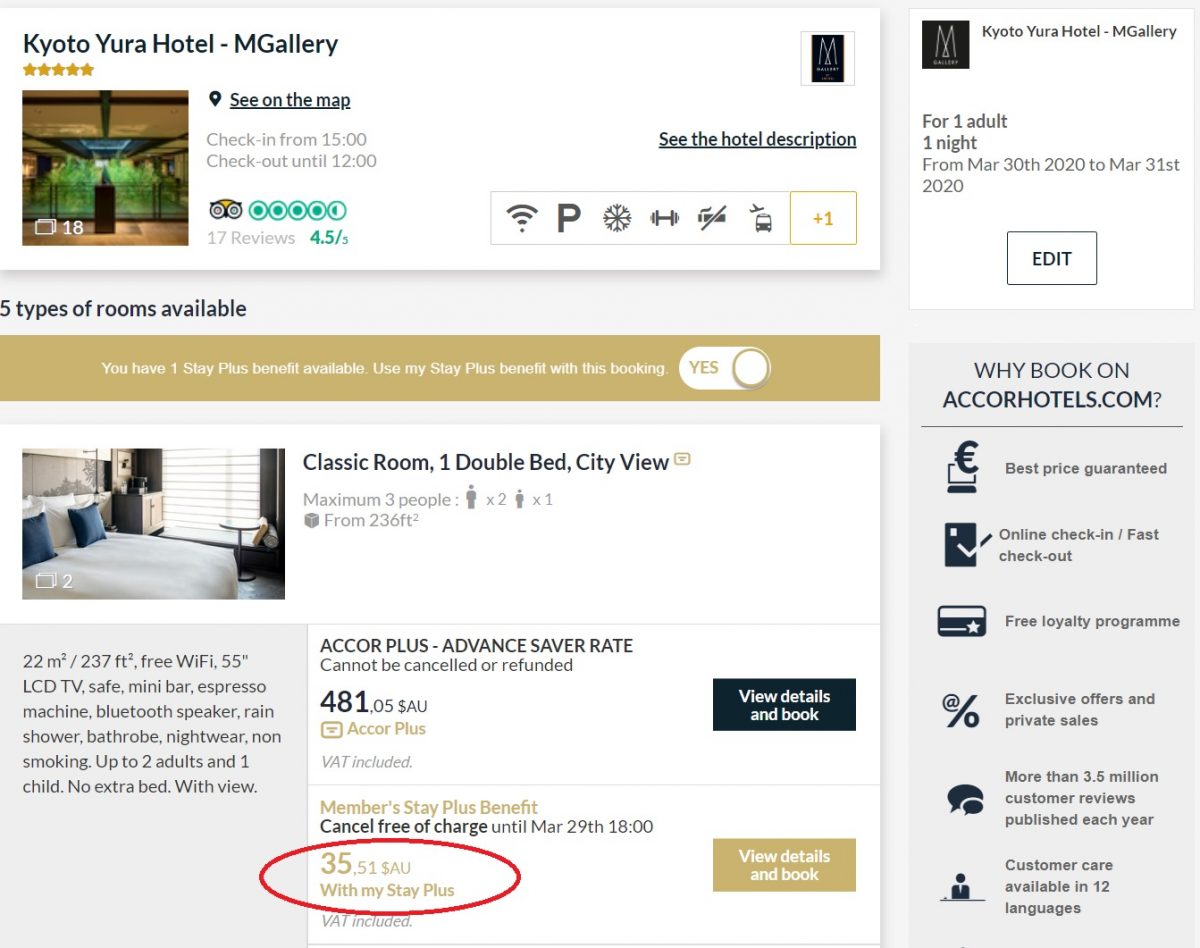 Sofitel Darling Harbour (Sydney, Australia)
The Sofitel Darling Harbour is one of the most popular Accor hotels in Asia-Pacific and it's not hard to see why. It's a personal favourite of mine, and I've chosen to use my free night here on several occasions.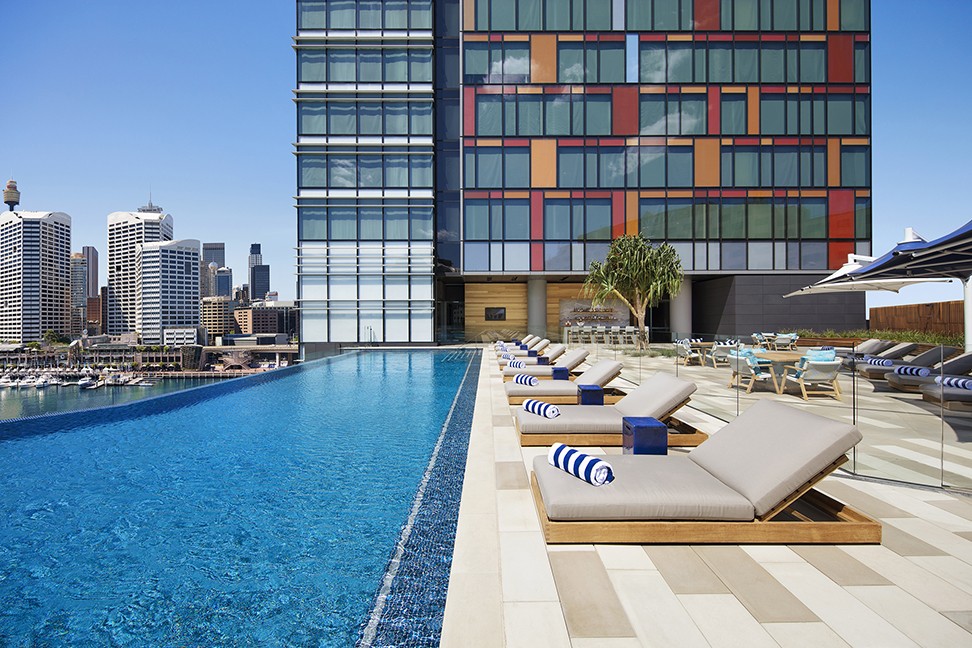 At the time of writing, a one-night stay in a base-level Superior room on Saturday, 23 May 2020 will set you back $412. Alternatively, choose to apply your Stay Plus and it's yours for free.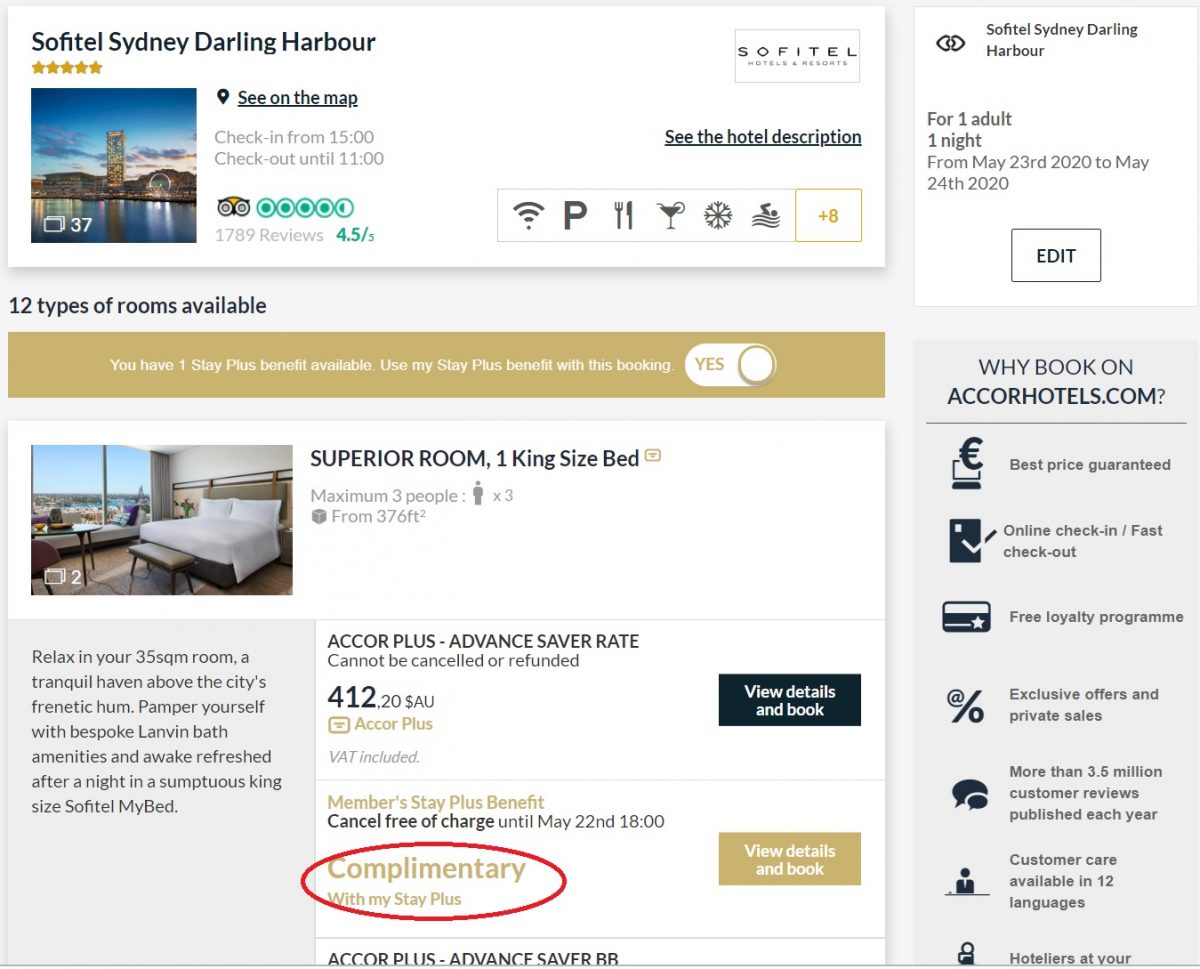 Sofitel Legend Metropole Hanoi (Hanoi, Vietnam)
The 5-star Sofitel Legend Metropole is one of the jewels in the Sofitel crown. It's located in the heart of old Hanoi, just 160 metres from the Hanoi Opera House. It features elegant neo-classical themed rooms, a 24-hour spa and a heated swimming pool.
A one-night stay in an Opera Wing Premium room on 19 March 2020 would ordinarily set you back $437. Alternatively, choose to consume it as a complimentary stay with your Accor Plus free night – and you'll pay $0!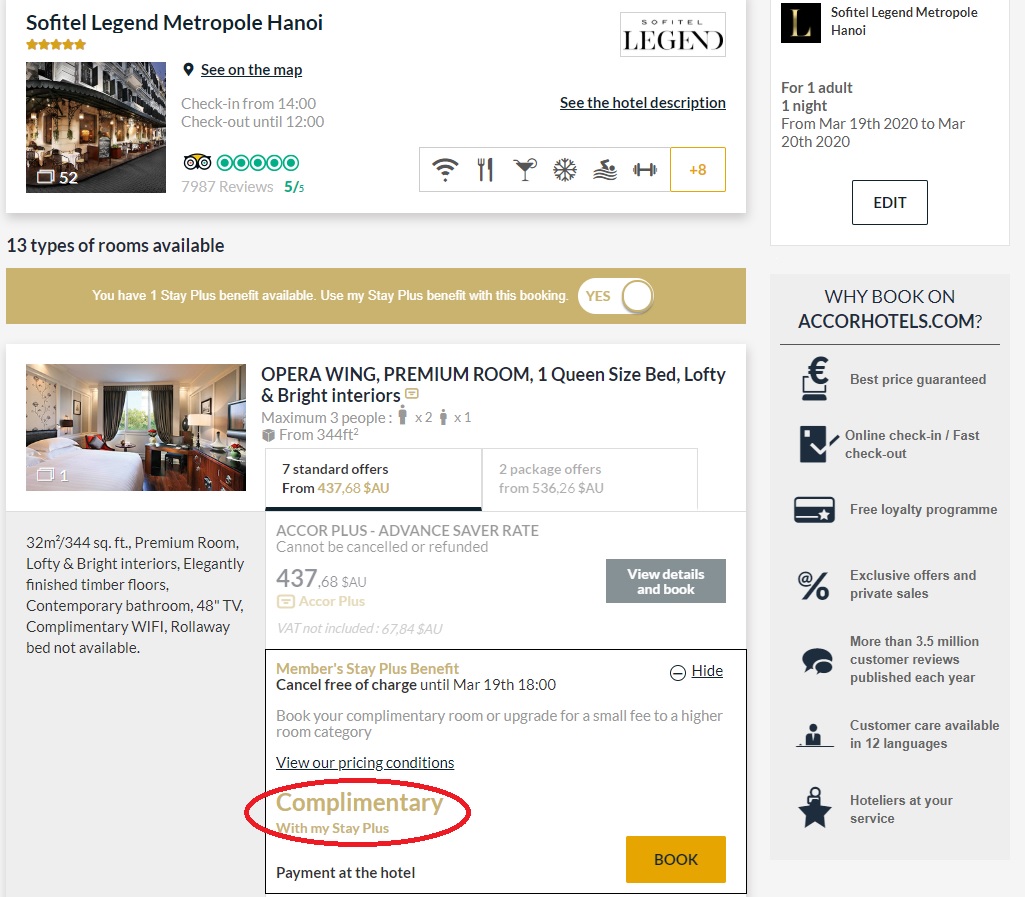 Sofitel Singapore City Centre (Singapore)
The Sofitel Singapore City Centre is my personal choice of Accor's many five-star hotels in the garden city. With supremely luxurious rooms, amazing service and a roof-top pool in leafy surrounds, it's an excellent base for exploring Singapore or simply relaxing.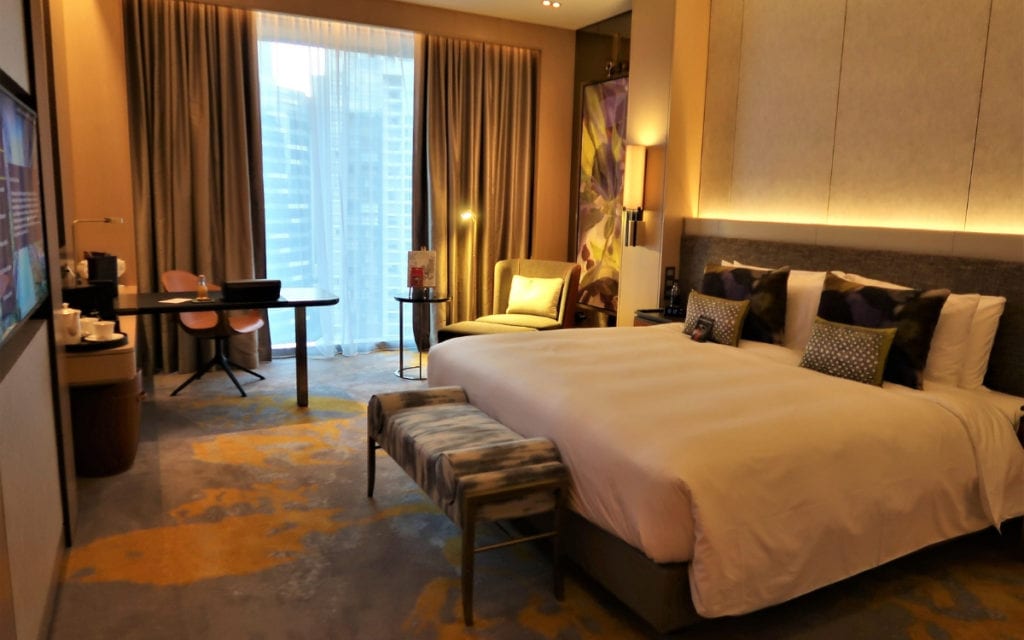 And, for this example, I've provided two different redemption options for the night of April 22, 2020. First up, a one-night stay in a base-level Luxury room can be redeemed as a complimentary Stay Plus (a saving of $399.65 – and just shy of the $400 threshold we've set for this article). However, it's also possible to upgrade to a Luxury Premium Room for an additional $63.44 –netting an even greater saving of $417.09!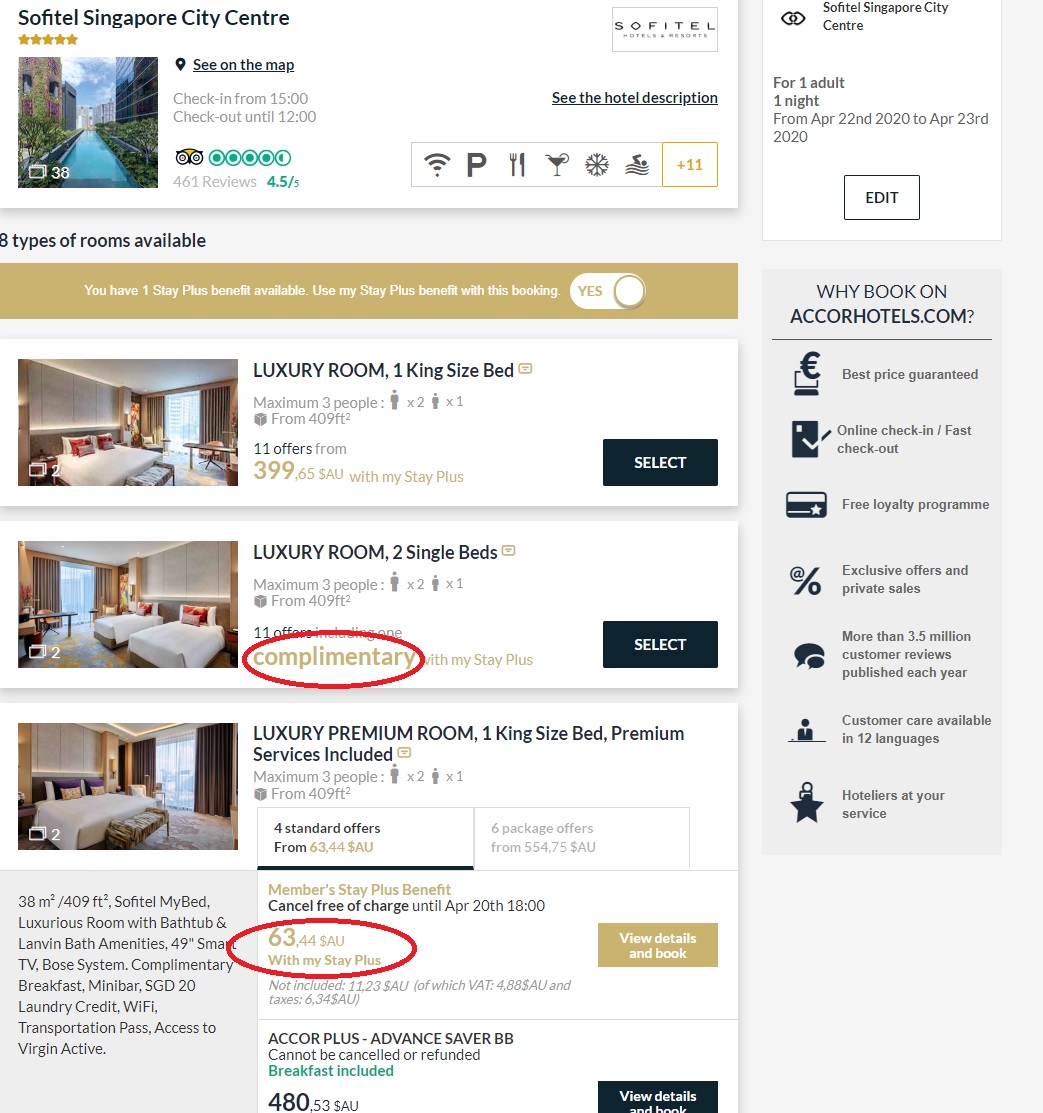 Tokyo Pullman Tamachi
Last but certainly not least, we're heading back to Japan during the peak cherry blossom travel period. This time, to Accor's flagship Tokyo property, the Pullman Tokyo Tamachi.
Here, a base-level Superior room booking commands an eye-watering $470 for the night of 29 March 2019. However, you could also choose to use your Stay Plus benefit – bringing the cost down to $0.
This incredible redemption will see you come out significantly ahead of the $355 you'll pay for an Accor Plus membership with our limited-time, exclusive offer.
It's not difficult to leverage $400 or more in value from your free night.
As we've highlighted above, it's entirely possible to fully offset the cost of your membership fee – and, indeed come out ahead – simply by using the free hotel night that comes with Accor Plus loyalty.
And while we've focused on a small selection of five-star properties in this post, there are almost 800 other properties you could choose to use this membership privilege with.
The Stay Plus benefit can be redeemed online, up to 12 months in advance. And, it's fully refundable, which means you can easily cancel it with no penalty up to one day before your stay if your plans change.
As with our examples above, the earlier you look, the better chance you will have of locking in the Stay Plus benefit at your preferred property, on your preferred date.
Sign up for Accor Plus membership now
While you're here: Subscribe to our newsletter for the latest tips, deals and news. It only takes a few seconds and we respect your privacy: